Spend $10+, get $5 back, up to 10 times when you Shop Small by 9/20/20
---
Enroll by 7/26/20. Get a $5 statement credit by using your enrolled Card to make a single purchase of $10+ at a US business location on the Shop Small Map (or Online Directory) by 9/20/20. Limit of 10 statement credits (total of $50). Terms apply.
---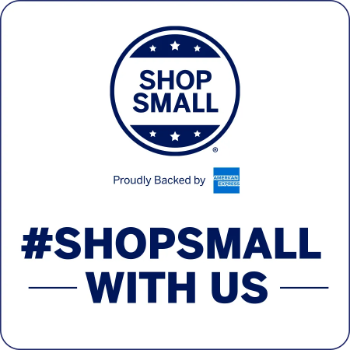 ---
---
Offer Terms & Conditions:
CARD ELIGIBILITY:
You must first add offer to an eligible Card through Amex Offers by 7/26/2020 to enroll in the offer and then use that same enrolled Card to make qualifying purchases. Only U.S.-issued American Express Consumer and Business Cards and registered American Express Serve® and Bluebird cards are eligible. American Express Prepaid Cards, Corporate Cards and American Express Cards issued outside the United States are not eligible. This offer is also available to Additional Card Members on Consumer and Business Card accounts. To receive up to 10 statement credits, Additional Card Members must individually add the offer to their Additional Card and make qualifying purchases with their Additional Card. Limit of 1 enrolled Card per Card Member. Your enrollment of an eligible Card for this offer extends only to that Card. After you enroll an eligible Card, you will not be able to enroll a second eligible Card that you may have.
QUALIFYING PURCHASES:
A "qualifying purchase" means a purchase made at a business location in the U.S. on the Shop Small Map, available at americanexpress.com/shopsmalloffer, or the Online Directory, available at americanexpress.com/shopsmallonline, with your enrolled Card or with Pay with Points linked to an enrolled Card on or before 9/20/2020 in accordance with these terms. The following do NOT count as a qualifying purchase: fees or interest charges, balance transfers, cash advances, purchases of traveler's checks, purchases or reloading of prepaid Cards, purchases of any cash equivalents or purchases made in foreign currencies. You may not receive a statement credit if we receive inaccurate information or are otherwise unable to identify your purchase as qualified for the offer. For example, you may not receive the statement credit if (a) the Merchant uses a third-party to sell their products or services except that qualifying purchases made through Resy.com and the Resy mobile app will qualify for the offer; or (b) the Merchant uses a third-party to process or submit your transaction to us (e.g., using mobile or wireless card readers); or (c) you choose to make a purchase using a third-party payment account or make a purchase using a mobile or digital wallet. Note that we may not receive information about your qualifying purchase from Merchant until all items from your qualifying purchase have been provided/shipped by Merchant. Statement credit may be reversed if qualifying purchase is returned/cancelled. If we do not receive information that identifies your transaction as qualifying for the offer, you will not receive the statement credit.
OTHER TERMS:
Offer is non-transferable. The enrolled Card account must not be cancelled or past due to receive statement credit. Any benefit earned from this offer is in addition to the rewards (i.e. points, miles or
cash back) that you may earn as part of your existing Card benefits. Statement credit will appear on your billing statement within 90 days after 9/20/2020, provided that we receive information from the Merchant about your qualifying purchase. By adding an offer to a Card, you agree that we may send you communications about the offer. We are working hard to connect our Card Members and Merchant partners to deliver benefits to them both during this challenging time. Due to this unprecedented period of disruption, note that the Merchants listed on the Shop Small Map or the Online Directory may change and your ability to redeem Amex Offers may be affected at this time due to changes in some Merchants' operations, such as reduced hours or suspension of in-person shopping, dining or services. In addition, business location and other information provided on the Shop Small Map or the Online Directory may contain inaccuracies or errors. While we hope to provide you with this offer on these terms, given the unpredictability of the current situation, we may need, and we reserve the right, to change or cancel this offer at any time.