A stroller hang-up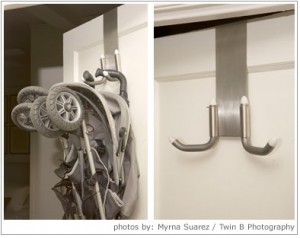 If storage space is tight, finding a place to keep your stroller can be frustrating. Metrotots has come to the rescue with the StrollAway, a new hook which hangs on the back of a door and keeps your folded stroller aloft and out of the way.
What's great is the sturdy, forked design of the hook, which can accommodate a range of different stroller types. It also can adjust to nine different positions to fit almost any door size. The StrollAway was invented (not surprisingly) by an enterprising New York mom who couldn't figure out how urban parents in shoebox apartments survived without stroller storage.
Having solved the city-dweller's dilemma, MetroTots now promises to develop a wall-mounting hook, as well as a multi-stroller system. Excellent.
The post A stroller hang-up appeared first on Spilling the Beans - Magic Beans.