Welcome to the world, baby boy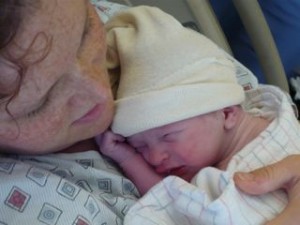 Eli and I are thrilled to welcome our son into the world. He was born this afternoon at 2:34pm after a reasonably quick (5.5 hour) labor. I was induced – sort of – this morning. My doctor broke my waters, we walked around for a couple of hours, and things took off nicely from there. He weighed in at 7lbs, 12oz and is 20.5″ long. I'm feeling great, and he's doing very well. We're both resting up.
I can't say enough about my doctor, Dr. Beth Hardiman, and the nurses at Mount Auburn Hospital. I won't even try to put it into words. This was my second delivery with this team, and both were amazing births. And Eli… Eli and I took a class on the Bradley Method way back in 2002 when I was pregnant with my first, and six years later, he still remembered everything he needed to know to be an amazing coach. We did it totally naturally, a somewhat grueling but overall incredibly rewarding experience.
In accordance with Jewish tradition, he will be named at his Bris next Tuesday. For the next week, he goes by nicknames. I'm thinking Godot will work nicely…
The post Welcome to the world, baby boy appeared first on Spilling the Beans - Magic Beans.