Total recall?
Sometimes these days it can feel that way!  Why do bad things always seem to happen in threes??  With the recall of the Sport and older Phil and Teds models, not to mention the issues that have surfaced with the Dash, we threw our hands up in despair after receiving word that Haba, a renowned maker of many popular wooden toys, has also recalled a number of products.  The safety of you and your children is always our top priority, so thanks for sticking with us as we try to provide you with up-to-date information surrounding these issues!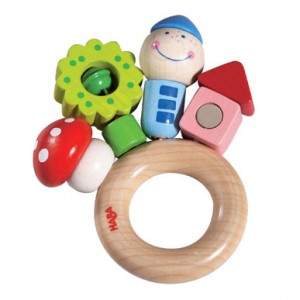 Haba has discovered that some of their products that contain mirrors and prisms can come apart, resulting in a potential choking hazard.  There have been no reported injuries.
Haba has posted a complete list of recalled items on their website: http://www.habausa.com/safety.  On that site, you will also find detailed photographs of the affected products, an FAQ section, and a form that consumers can fill out to generate a product return or exchange.
If you do own one of the recalled Haba toys, Haba is asking that you return the toy to them in exchange for a free replacement product or a full refund.  Haba will also reimburse customers for shipping charges resulting from the return of the toy.  Details are available on their website.
We've always loved the whimsical, unique toys from Haba, and respect their commitment to making sure they take care of their affected customers promptly, and continue to offer toys that are both top quality and creative.  In a span of years now when recalls seem to be popping up left and right, it's interesting to bear in mind that no one corner of the industry is completely immune to a safety issue, large or small, at some point.  So we want to offer information to help parents and caregivers continue to be aware of any issues that come up, so that in the meantime kids can be safe and just focus on one of the most wonderful basics of being a kid – learning through play.
The post Total recall? appeared first on Spilling the Beans - Magic Beans.