Sneak preview: Orbit Stroller Pannier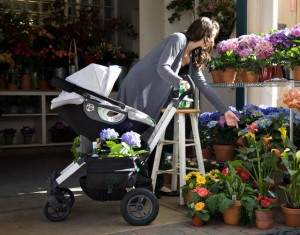 I love my Orbit Infant System, but its biggest challenge is storage space. The cargo pod will hold a few essentials, but if you're doing any serious shopping, you might be out of luck. But not anymore. Orbit has designed a pannier attachment for the stroller frame that is just as smart as you'd expect it to be. It is a collapsible basket that mounts effortlessly to the side of the frame. Each Pannier can hold one full-sized grocery bag, and they are sold in pairs (so you can use one on each side). There's a patent-pending carry handle that allows one-step removal and carrying, and there's even a "Rain Fly" that stows in a pocket to protect your cargo when storm clouds threaten.
The maximum weight is 8 pounds per Pannier, which is a decent amount for a quickie shopping trip. The Panniers will work with any attachment on the stroller frame. We are getting a test pair to play with and display in our Brookline store, and Orbit will have these in stock right after Christmas.
I am very excited to have a pair of these. I'm very curious to see how they affect the handling of the stroller. I've been amazed by the easy steering of the Orbit, and I'm hopeful that the full load won't have a negative impact on the responsiveness.
Pre-order now at mbeans.com
The post Sneak preview: Orbit Stroller Pannier appeared first on Spilling the Beans - Magic Beans.