Paint like a pro with Powder Art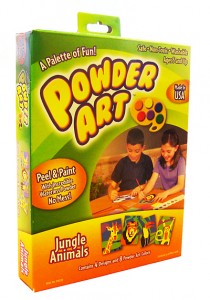 Hi there, this is Sarah, filling in for Sheri while she continues to await the arrival of baby #3.
If you're looking for a fun, indoor activity to keep kids occupied during some of the rainy days this summer, we've found something new that is a fun variation on an old theme. Crescent Cardboard has crafted a "painting" kit that doesn't actually involve paint at all — instead, the medium at hand is an array of brightly colored powders made from recycled paper.
Powder Art puts an interesting spin on the traditional paint-by-number concept. The image is divided up into sections, and each section is labeled with a number that corresponds with a powder color. When you want to "paint" a particular section, simply peel off the paper overlay to reveal the sticky surface. Dip your paintbrush into the powder and tap the bristles onto the surface until it is coated to your liking.
The end result has a cool airbrush type effect. The powder gives the image a soft finish, and the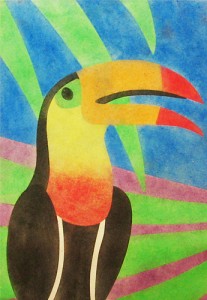 resulting masterpieces are worthy of a spot front and center on the refrigerator.
There's lots of room for variation. Some kids might prefer to stick to the numbers to get a more calculated result, while other young Picassos may prefer to test out their own aesthetic preferences. The painting process is a little bit time consuming, so these projects work best for kids who are old enough to focus their attention on it for a little while. It's also a good project to work on in multiple sittings, accommodating kids who enjoy it but for shorter periods of time.
Overall, Powder Art is a really innovative concept, with the added benefits of using recycled materials in a creative way, being made in the USA, and helping avoid some of the messes that can come with using traditional paints. Each set includes 4 images, 8 powder colors, a storage palette, and a paint brush.
The post Paint like a pro with Powder Art appeared first on Spilling the Beans - Magic Beans.