New from Stokke
Today we had a presentation of the new Stokke product launches slated for the ABC show. There are some interesting developments. Here's a breakdown (this is a long one):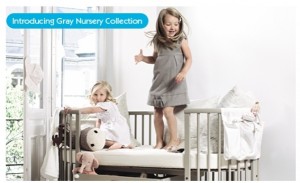 Furniture & Bedding
There are three new textiles coming into the bedding collection, including a pink version of the popular Tales pattern and Nest Sand, a gorgeous and very neutral pattern. They are also introducing a new color finish for the entire nursery line – Dove Gray. This is a very chic color palette right now, and the photos I saw were really beautiful.
Tripp Trapp
This is where the biggest developments are happening (there are no upcoming changes to Xplory). First of all, the price of the Tripp Trapp chair is going up to $250 starting August 1. Next, they are releasing a slightly revised version of the chair in September that has the modifications necessary to accommodate the new Baby Kit (more on that in a moment). They are discontinuing the orange and lime green colors, and they are introducing the Trend Collection – four new colors that will fetch a premium price of $299. There's Dove Gray (to match the nursery collection), an avocado green, a butter-yellow and a pink.
The Baby Kit
Right now, to modify the Tripp Trapp for use with an infant, you purchase a Baby Rail, a white plastic rail that provides enough frontal support to stabilize a six-month old for mealtimes. Now, they've made some nice improvements. The Baby Set comes with two pieces, a Baby Rail and a HighBack. The HighBack is exactly what it sounds like – a plastic piece that extends the backrest by a few inches to provide some extra back support for babies just getting comfortable with sitting up. The best part is, the Baby Kit is color coordinated and comes in all the same colors as the Tripp Trapp chair, so you can have a lot of fun mixing and matching the kits to the chairs.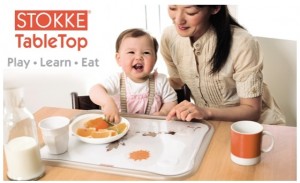 The Table Top
The single biggest parent request for Stokke? A tray for the Tripp Trapp chair. Don't get too excited though, they haven't exactly granted that wish. Any tray that isolates a child from the family dining table runs contrary to Stokke's core philosophy about the Tripp Trapp – that children should be invited to the table right from the beginning. So a tray is out of the question. Instead, they've developed an alternative. The Table Top is a rigid plastic tray that attaches to any table surface using four suction cups. It is clear plastic, BPA-free and phthalate-free, with a small lip to contain spills. The Table Top includes three double-sided graphics that can go under the plastic, designed to stimulate and entertain children at a wide range of ages. It also comes with an Inspiration Book to give parents ideas for using the Table Top to enhance learning and other family experiences.
I've always maintained that Stokke's disdain for trays is explained in part by the unpopularity of tablecloths in that part of the world. It's easy to push a baby right up to the table if he can't grab a fistful of tablecloth and, in an instant, wreak total havoc. In the USA, tablecloths are commonly used, and having a 10-month old at the table can be utterly terrifying. The TableTop isn't exactly going to solve that problem, since I doubt very much if the suction cups will stick to fabric. But if you've already done away with your tablecloths for family mealtime, and you're more concerned about protecting your table and containing the mess, this is a nice option. Note that the Table Top is not dishwasher safe. It will retail for $89.99.
New Cushions
Because of the new profile of the Baby Kit, Stokke is redesigning their cushions to cover the HighBack. They are adding some new textile colors, but best of all, they are making four premium cushions with a vinyl coating that will make cleaning SO much easier. These cushions will retail for $54.99. The uncoated cushions will be $44.99.
To see some more images, visit www.stokkeusa.com. At the moment, there's a slideshow right on the front page with most of these new products shown. If you have thoughts or feedback about any of this, please share. I'm curious…
The post New from Stokke appeared first on Spilling the Beans - Magic Beans.