Love ice cream? Then have a ball!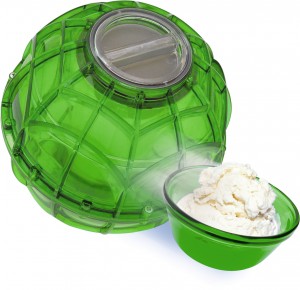 When we had our first look at the Ice Cream Ball by Industrial Revoluion, I was really curious. It looked like a lot of fun—for kids and adults alike. It also looked like a great way to get kids to enjoy not only the tasty treat at the end, but also the process of making the ice cream. Who doesn't like a spirited game of hot potato every once in a while? And the colors look just so darn cool. But the most important questions remained: How well does it work, and will the ice cream be good??
So I decided to invest in one and give it a try. And the results were terrific! The process is fun and the soft serve ice cream was delicious. The ice cream ball opens up on both ends. One end holds a metal tube, where all of the ice cream ingredients are housed during the freezing process; the other end allows the ice cream chef to pack the ball full of ice and rock salt, the tricks of the trade. Shake, roll, or pass the ball for about ten minutes, then open up the tube to give the contents a stir and replenish the ice. Close it up for another ten minutes and shake it some more. Then you've got yourself a pint of delicious soft serve.
The ice cream ball is perfect for birthday parties, cookouts, and that last summer hurrah before the school year begins. It's also a fun family activity for a rainy afternoon, and we've had a lot of those rainy afternoons around these parts lately. Add some pizazz to your ice cream creations by mixing in chocolate chips, crushed Oreos, or any of your favorite additions. The ice cream ball comes with a couple of base recipes to get you started, and you can have fun perfecting your own recipes. So whether it's for your child (or just your inner child!), the ice cream ball gets two thumbs up for a great way to beat the heat.
Note: While tossing and passing the ice cream ball is perfectly acceptable, Industrial Revolution cautions against dropping or kicking the ball. To make sure your family enjoys homemade ice cream for years to come, keep the activity low-impact for best results! Enjoy!
The post Love ice cream? Then have a ball! appeared first on Spilling the Beans - Magic Beans.