Happy Blogiversary! Win a Tripp Trapp!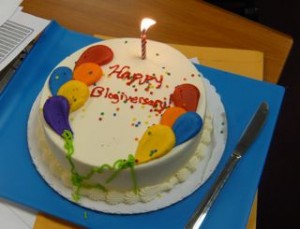 Today, Spillingthebeans is 3 years old! The past year has been a blur, but we've got a lot to show for it. Two new stores, one new kid and somewhat less posting than usual because of it all. Sigh. 
As is now traditional, we do a great giveaway to mark the Blogiversary. Today, we spent part of our day with our good friend, Geir Stokke, head of Stokke USA. We had a great meeting and a great lunch, and so in his honor, and in honor of his favorite product in the universe, we are giving away a Stokke Tripp Trapp chair. You can choose any color you like, or you can create your own combination (as seen here). Stokke will also throw in one of the new Table Top trays! To enter, simply comment on this post. We will draw a winner one week from today.
And yes, we did eat cake. 
The post Happy Blogiversary! Win a Tripp Trapp! appeared first on Spilling the Beans - Magic Beans.