Geuther 'round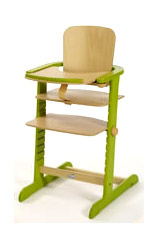 In this brave new world of design-conscious parents, European wooden high chairs have become a ubiquitous presence. Whether it's the clean zigzag of the Stokke Kinderzeat or the elegant curves of the Svan chair, these attractive seats offer the added appeal of longevity. Both will adjust to accommodate children or adults, using a simple allen wrench to move the seat platform.
Until now, if you wanted one of these seats, your choice was largely dictated by the age of your child. If you were purchasing a high chair for an infant, you chose the Svan, which is available with a tray. If you had a toddler, you chose the Kinderzeat, which is designed for toddlers 18 months and older. It's worth noting that in Europe, the Kinderzeat is known as the Tripp Trapp, and it is available with an infant kit.
Now, the newest arrival in this category, the Geuther Family Chair offers a simple, tool-free adjustment mechanism which makes it incredibly simple to use the seat with a variety of different ages. The Geuther is similar in design to the Kinderzeat, but it comes with a tray, so you can use it with an infant. It comes in a bunch of colors (we're carrying 6 of them), and there are several thoughtful and kid-friendly details, including lots of rounded edges and a wide base that will minimize tipping.
The post Geuther 'round appeared first on Spilling the Beans - Magic Beans.