GB Pockit+ All City | First Look
We are excited to share that the new GB Pockit+ All City has arrived to Magic Beans! We always love when a brand sets their sights on perfecting their gear assortment, and with the new Pockit+ All City, GB has made it a priority to address and improve upon issues with the previous Pockit models. No longer will an inconsistent fold or a less-than-smooth push cramp your style! With the GB Pockit+ All City, GB has introduced a promising contender to the ever-growing market that is micro travel strollers.
GB POCKIT+ ALL CITY: IMPROVEMENTS
With the new Pockit+ All City, GB (Cybex and Evenflo's parent company) has addressed the fold issues from prior models along with improving their textiles, canopy size, and quality of ride to assimilate with the trends followed by most travel strollers on the market. The Pockit+ All City works from 6 months to 55lbs, giving it an edge when it comes to maximum weight bearing capabilities when compared to the Yoyo+ and Ant. Plus, the Pockit+ All City t is, of course, overhead bin compatible! What's more? The Pockit+ All City weighs in at just 12.5lbs – proving good things really do come in small packages.
GB POCKIT+ ALL CITY: COMPATIBILITY & PRICE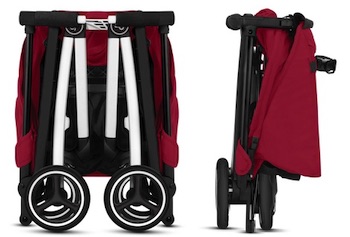 Car seat adapters are included at the point of purchase (as opposed to sold as separate accessories, as is often the case with competing brands), but bear in mind that the seat textile needs to be removed either completely, or from the back half of the seat, in order to fit a car seat onto the stroller. We tested compatibility and found the car seat adapters included are compatible with the following:
Cybex Cloud Q with Sensorsafe

Cybex AtonM with Sensorsafe

Nuna Pipa

Clek Liing (slightly more tedious in placing onto the stroller)
The absolute biggest selling point of the GB Pockit+ All City – it's price! At just $249.95 this option is a total home run when it comes to your on-the-go, travel friendly, small footprint companion stroller. The VERY vast majority of parents will own at least two strollers and the GB Pockit+ All City makes for a truly great partner to a heavier duty, full size primary stroller.
HAVE ANY QUESTIONS?
Intrigued? You can test drive the GB Pockit+ All City at your neighborhood Magic Beans location or reach us at anytime via email at questions@mbeans.com. We're always happy to talk shop. You can contact our Baby Gear Gurus via phone (866-600-BEAN) during business hours (M-F, 9 am-5 pm EST) or by utilizing the Product Expert Chat on our website. You can also get all the advice you need by visiting our blog and YouTube channel! Want to check out some other single-seater strollers? Be sure to take a look at our Single Stroller Buying Guides.
The post GB Pockit+ All City | First Look appeared first on Spilling the Beans - Magic Beans.