Clek got back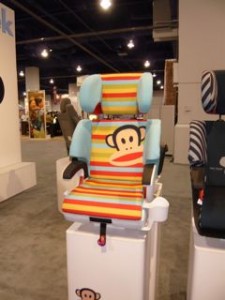 I'm a huge fan of the Clek Olli booster seat, a fabulous option for on-the-go families. The simplicity and ease-of-use has made it a hit with parents, while the fun colors make it cool for the kids. My daughter loves her pink camouflage version. The only downside of the Olli is the lack of a back, which makes it less than ideal for long car trips, since sleepy heads have no place to loll.
Now, they have introduced Oobr, basically an Olli with a removable back. The back is formidable, with a magnesium frame, a structural head restraint with deep side wings, and a layer of energy-absorbing foam. It also reclines up to 12 degrees.
Like the Olli, the Oobr features the rigid LATCH attachment system that keeps the seat stabilized in the car, and a quick-release strap that uninstalls the seat in the blink of an eye. There's also the same deep cushioning in the seat to reduce what Clek affectionately refers to as "numb bum."
In addition to the back, the Oobr will feature another significant upgrade from the Olli – the use of Crypton fabrics, which are stain, moisture and bacteria-resistant. Very useful in a car seat – if you've been there, you know.
Also, Clek joins Bugaboo in licensing Paul Frank's designs, and will be adorning special editions of both Olli and Oobr with Julius the monkey and his friends.
The post Clek got back appeared first on Spilling the Beans - Magic Beans.