Britax Announces Frontier Car Seat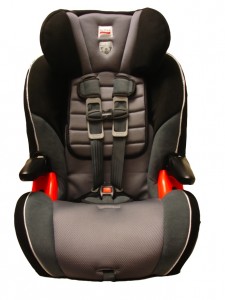 Today, Britax officially announced their newest seat, the Frontier. This forward-facing seat is designed to hold a child from 25-80 pounds using the 5-point harness, and 40-100 pounds as a belt-positioning booster.
This seat fills a hole in the Britax product line, and should be a nice option for parents looking to keep their kids in a 5-point harness for longer periods of time. To me, the only real competition with this seat is the Safeguard Go, which sports an unconventional design that emphasizes portability, and accordingly doesn't offer the cushioning and side-impact protection of the Frontier.
For those of you who like measurements (and I know you're out there), I've gotten a full set of specs from Britax. I will try and include the highlights, but if I've left out something important, forgive me. Just leave a note in the comments, and I'll try to get an answer.
The seat weighs 23.5 lbs. The exterior width of the seat is 19.5″, and the height can range (depending on the headrest setting) from 22-27.5″. The seat area is 13.5″ deep and 12″ wide. The top harness slot is 18.25″ high.
The only downside of the Frontier is that you can't go straight into it from your infant car seat. I understand why they did this, though. Britax is committed to encouraging parents to keep their children rear-facing as long as possible, and to offer this seat with a 20 pound weight minimum would accomplish the opposite goal. From a safety perspective, it is better to go from an infant car seat to a convertible and then into a Frontier. The Radian 80 from Sunshine Kids is still perhaps a better long-term investment, because it is a convertible seat that will hold a child in a 5-point harness up to 80 pounds. But it doesn't become a booster seat, and trust me when I tell you it's a battle to convince a 6-year-old to wear a 5-point harness.
The timing of the Frontier is fortuitous in that it coincides nicely with the new car seat law that will go into effect in Massachusetts this summer. More on that later…
The post Britax Announces Frontier Car Seat appeared first on Spilling the Beans - Magic Beans.